Best Baking Pan Materials
Best Baking Pan Materials
We have always wondered which baking pan would be the best fit for us. Whether it be glass or aluminum or any other. Does it really make a difference? It definitely did after we tried out all the different quality build pans ourselves. Our best bakeware set helps you choose the best baking pan materials among the competitors in the market. Moreover, Baking is both a science and an art; just as each component in a recipe has a specific purpose, so does the pan you use. This article will break down the many types of bakeware so you can select the finest baking pan for your project.
Furthermore, it's impossible to overestimate the value of decent baking pans in a professional kitchen. Baking, unlike cooking, is a precise science, so it stands to reason that not only do the ingredients you use affect the outcome of your baked products, but the shape, size, and material of the pan you use also matters.
Moreover, baking the ideal cake is a difficult process. Even if you start with a tried-and-true recipe, variables such as mixing procedures and the temperature of the components. Might impact how the cake comes out. Because baking leaves little room for mistakes, you should always strive to utilize the precise baking pan size and type specified in a recipe.
Hence, keep reading to find out how to pick the best pan for the baked products. Which can result in the fantastic outcomes you and your clients are looking for.
Types of Baking Pan Materials
1. Aluminum Baking Pans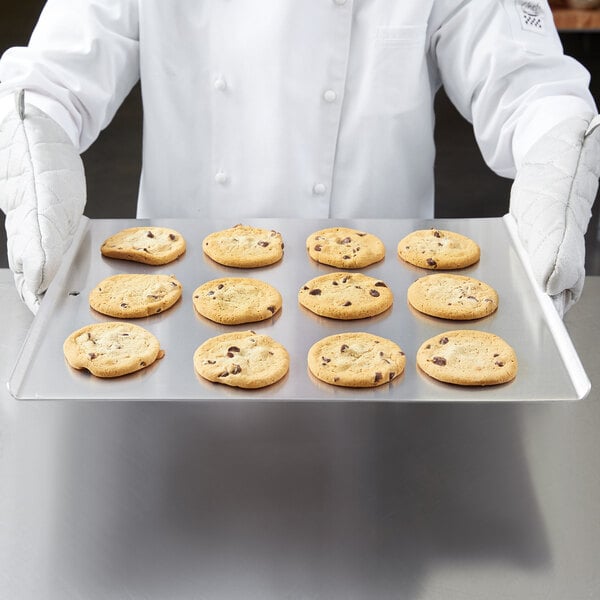 The first on our best bakeware set is the Aluminum bakeware pans. Aluminum is an excellent heat conductor, which means it can quickly release the heat it collects and transfer it to whatever you're baking. This is one of the reasons why aluminum bakeware is so popular. Moreover, in terms of heat conductivity, pure aluminum is only second to copper. It's cheap, and when reinforced (typically with magnesium, copper, or other metals), it creates great light and responsive cookware.
Furthermore, aluminum baking sheets and pans are excellent for foods that are baked quickly at high temperatures, such as cookies, biscuits, and muffins. This is due to the fact that they quickly heat up and promote uniform browning. Hand cleaning or using metal-safe dish detergents are recommended for maintaining aluminum baking pans. Natural aluminum, as you might expect, reacts with some acidic foods, giving them a metallic flavor and a dull gray hue. The finest pieces are either lined with a nonstick coating, encased in stainless steel, or undergo anodization to solve this flaw (a process that significantly hardens the surface and gives it a very dark grey color).
However, there are several options for high-performance, nonreactive aluminum cookware. We feel it produces the best nonstick lines on the market. Ideally, we choose high-quality aluminum pans with a uniform, thick layer of metal; this will ensure that your baked products bake evenly in the pan. Poor-quality pans may have uneven metal sheets, resulting in hot patches where the cake browns more quickly in specific areas.
Aluminum is a sensible alternative for bigger items like roasting pans, griddles, rondeau pots, and large water pots. Since, it is lightweight, especially when anodized or nonstick coated.
Pros:
The baking pans heat up and cool down swiftly.
Very light in terms of weight and easy to carry.
Cons:
Not an excellent heat-resistant pan.
2. Stainless Steel Baking Pans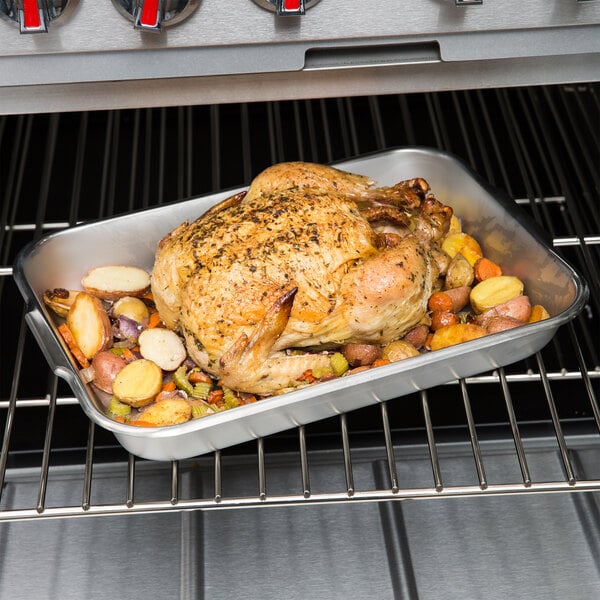 The Stainless Steel Baking pan has been made to our best bakeware set due to its incredible longevity. Stainless steel is an iron alloy, which means it's made up of metals and non-metal elements. The metals, as well as the percentages of each, differ from one variety of stainless steel to the next. Moreover, Stainless steel baking sheets and pans are ideal for grilling meats for crispy, caramelized crusts or baking with acidic ingredients. For simple cleaning, this material is dishwasher safe.
Furthermore, because stainless steel is both durable and beautiful, it is used in many of the greatest pots and pans. Stainless steel is also popular as an internal cooking surface since it does not react with acidic or alkaline foods and is resistant to pitting and scratching. When compared to other metals, stainless steel is particularly resistant to corrosion and rusting. It is also dishwasher safe and retains its lustrous sheen even when subjected to heavy commercial usage. Many other forms of industrial cookware, such as stockpots, skillets, frying pans, saucepans, and more, utilize it more often.
However, stainless steel is a poor heat conductor and would create a terrible pan on its own! Thankfully, a method for permanently attaching stainless steel layers to highly conductive metals like copper and aluminum has been discovered. Many people consider the stainless steel "clad" pots and pans to be the most versatile and useful cookware available. It combines the imperviousness of stainless steel with the conductivity properties of other metals to produce a versatile pan that can handle just about everything. Stainless steel clad cookware is a fantastic choice for your most used pans, and its longevity and ease of maintenance make it well worth the investment.
Pros:
Incredibly durable and long lasting than other materials.
Excellent heat-resistant capacity.
Cons:
It is a bit hefty in terms of weight.
3. Cast Iron Baking Pans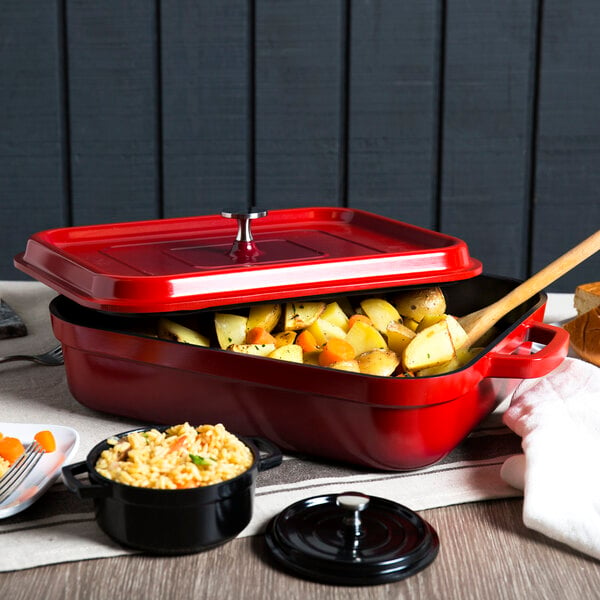 The third on our list is the Cast Iron baking pans. It has been made to our list due to its incredible build quality and structure. Cast iron is a poor heat conductor, which means it takes a long time to heat up and cool down. Cast iron is popular for dutch ovens, fry pans, griddles, and grill pans because of its self-regulating nature. These items are extremely hardy, resisting warping, denting, and chipping.
Moreover, There's a reason why people hand down cast iron pans from generation to generation for baking and cooking. A well-seasoned pan is non-stick, and iron is a good conductor. The seasoning procedure is spreading a thin, uniform coat of oil across the whole surface of the pan, including the underside, and then baking on that oil at a high temperature. The oil will polymerize into a non-stick polymer as a result of the heat, which is why it won't wash off with washing and water.
Furthermore, for the cooktop, regular cast iron is a popular choice. Although it does leach iron into your meals, most people's iron levels are only improved as a result. Enameled cast iron (top photo) allows you to take advantage of cast iron's conductivity while also allowing you to use soap (although sparingly) and avoid the problem of acidic foods reacting with the cast iron.
Both cast-iron cookware and enamel coated cast iron cookware cook similarly, but there are some noticeable distinctions. Natural cast iron is less expensive, but it requires the application of a "seasoning" layer to prevent rust. Seasoning not only prevents rust but also makes a beautifully nonstick inside and has a rustic/iconic appearance.
Pros:
Has one of the highest heat-resistant capacity among other materials.
An excellent pan materials to ensure even cooking.
Cons:
Is expensive incomparison to other brands.
4. Stoneware Baking Pans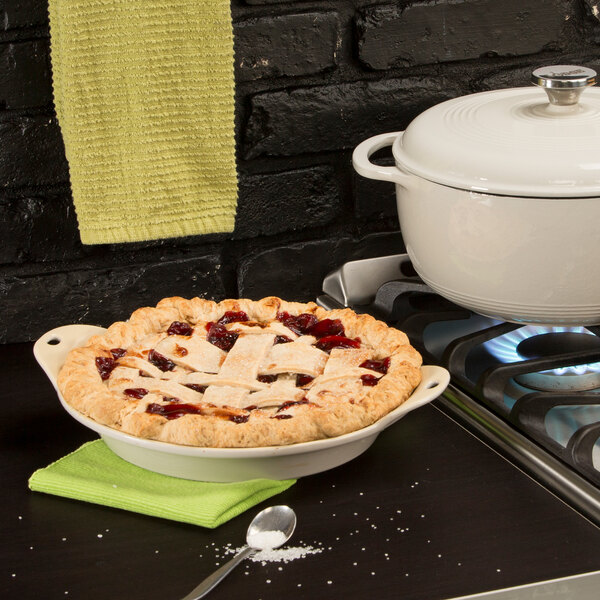 The fourth on our best bakeware set is the clay or stoneware baking pans. Baked pasta dishes, casseroles, gratins, bread puddings, and pies may all be made in clay or stone baking pans, which are non-reactive and good heat-holders. Although clay and stoneware containers are the oldest types of cookware, don't dismiss them! These components are functional, long-lasting, and offer excellent cooking outcomes. Furthermore, "Old Fashioned" still has a highly favorable meaning when it comes to good cuisine.
Moreover, the bulk of stone cookware on the market in the United States is glazed baking pans and casseroles (with or without lids) designed solely for use in the oven. They come in a variety of shapes and sizes, as well as a variety of colors that look beautiful on the table and are dishwasher and freezer safe. In Addition, like cast iron, clay and stoneware warms evenly and maintains heat effectively, but it is considerably less prone to burn. Casseroles, lasagna, macaroni and cheese, and other baked pasta, enchiladas, scalloped potatoes, different grains, and roasting pans are all common uses.
Furthermore, Pizza stones, bread pans and bread cloches, and tagine pots are examples of more specialized stoneware that have found a home in the American kitchen. Covered pots known as "Romertopf" are constructed of porous, unglazed clay and create incredibly juicy and delicious roasts as well as crusty bread. To preserve the iron and prevent corrosion, certain cast iron pans are coated with enamel. These pans combine the heating capability of cast iron, which quickly transfers heat to baked foods, with a gleaming non-stick coating that retains heat.
Pros:
Offers the best quality within the given price range.
Ensures even cooking with the excellent heat-resistant capacity.
Perfect for over to table service of food.
Cons:
Is typically hefty in weight, hence moving it around could be risky.
5. Glass Baking Pans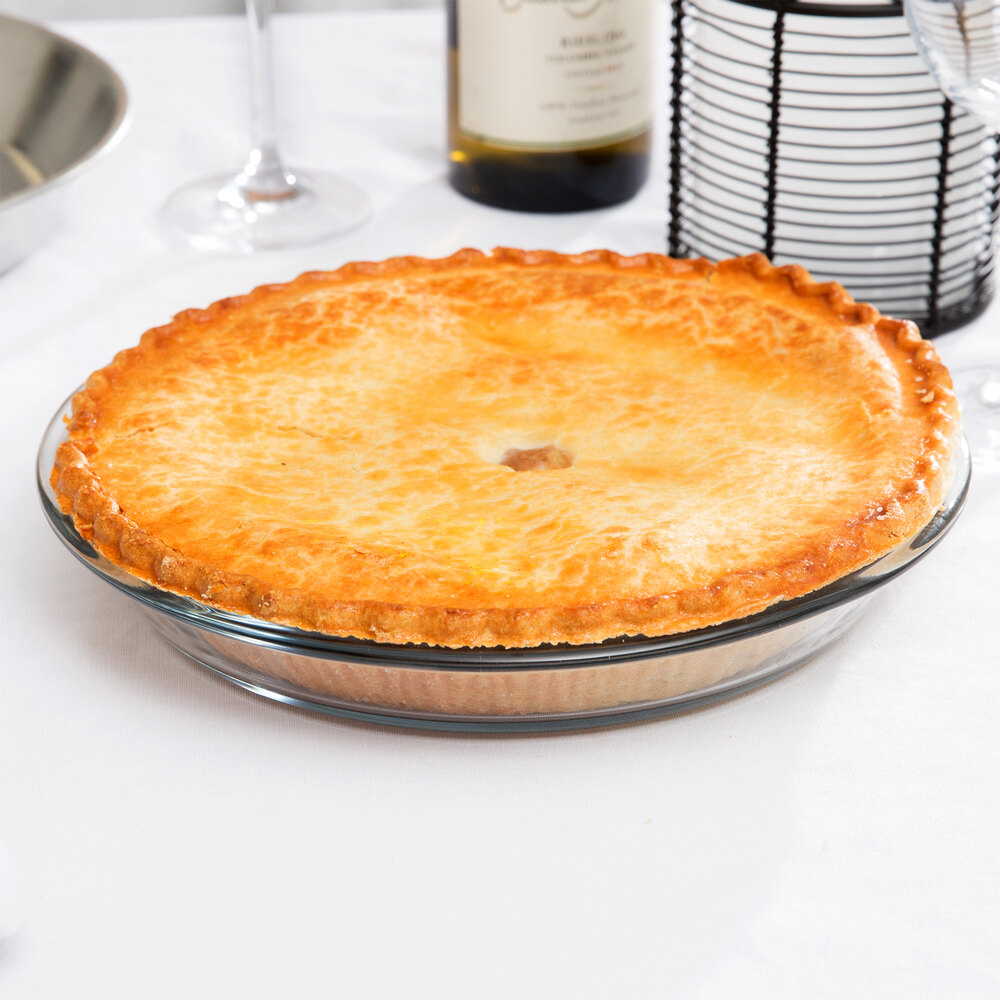 The last on our list of best baking pan materials is the glass baking pans. Casseroles, braised dishes, and other meals that require a stable, continuous temperature, as well as when cooking with acidic ingredients, are best cooked in glass baking pans. For simple cleaning, this material is dishwasher safe. Moreover, Glass is a poor heat conductor, which means it doesn't transfer heat well from itself to whatever you're baking. Because baking in glass is slower, it takes longer for recipes to bake.
Furthermore, glass is an insulator, which means it retains heat well. This is why glass baking pans are so popular for casseroles: they can go from the oven to the dinner table and hold the heat of the oven for longer, keeping the food warm. If you bake the same casserole in a metal pan, the pan will lose heat quickly when placed on the table, causing the meal to cool faster.
However, use a natural sponge or a soft plastic brush to clean your kitchenware. Glass baking pans should not be stacked since the metal bottoms can damage the pan underneath. Put a paper towel or other soft fabric liner between the pans if you need to stack them owing to a shortage of storage space. The most essential thing to remember is that glass bakeware requires particular care if you want it to endure a long time.
Finally, non-reactive glass baking pans and even pots will not leech toxins into your food. Glass gets a point. If you can find ones with lids, they're also wonderful for storing and saving dishes.
Pros:
Retains heat to ensure evenly cooking of food.
Cleaning is much easier compared to other materials.
Not very heavy in terms of weight.
Cons:
Has the risk of breaking off easily.
Final Verdict
Finally, if we have to pick one of the above, we could easily be a bit biased towards the clay or stoneware baking pans. Stoneware, on the other hand, needs a few particular measures in order to keep it in good condition and avoid fractures. Because it heats up quickly while cooking, never set it on a cold surface or fill it with anything cold while it's still hot. Because this type of cookware is so diverse, it's critical to follow the particular care and usage instructions for the items you use.
However, in terms of ease of cleaning and weight the Aluminum baking pans are a clear choice of ours. Aluminum is a sensible alternative for bigger items like roasting pans, griddles, rondeau pots, and large water pots since it is lightweight, especially when anodized or nonstick coated. Metal baking pans, whether aluminum or steel, transmit heat more effectively, allowing food to cook faster. Professionals prefer stainless steel, but because stainless steel pans lack a nonstick coating, they take longer to prepare for baking. Aluminum is a sensible alternative for bigger items like roasting pans, griddles, rondeau pots, and large water pots since it is lightweight, especially when anodized or nonstick coated.
In general, sheet pans and cake pans do not have handles, although ceramic and glass baking dishes have. Handles are common on roasting pans, which come in handy for cooking heavy things like a turkey, ham, chicken, or brisket.